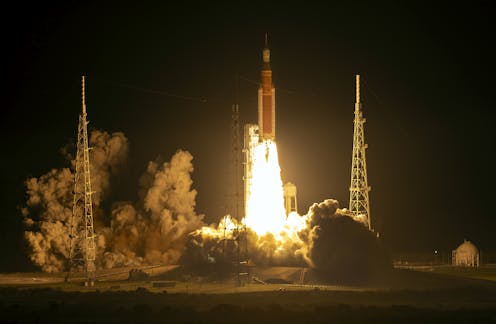 In 2020, the United States announced a framework for the private exploitation of space resources. It consists of practical principles to guide exploration, science and commerce in outer space. The Artemis Accords are intended to make space activity responsible, transparent, safe, peaceful and sustainable. Nigeria and Rwanda signed the accords on 14 December 2022, becoming the 22nd and 23rd countries, respectively, and the first African countries to do so. Nigerian space law and policy scholar, Anne Agi, explains why they signed and what the potential impacts could be.
What are the Artemis Accords?
The Artemis Accords are principles, guidelines and best practices shared by the US and other governments participating in NASA's Artemis Program, which aims to explore the Moon and send astronauts to Mars. The accords seek to advance international cooperation and peace in space activities, for the benefit of humanity.
The first countries to sign up were the US, Australia, Canada, Italy, Japan, Luxembourg, Ukraine, the UK and the United Arab Emirates. South Korea was the first to sign during the President Joe Biden administration.
Key principles of the Artemis Accords include respect for the sovereignty of celestial bodies, interoperability of systems, transparency and predictability of space activities.
They also deal with things like cooperation in emergency situations, registration of space objects, managing orbital debris and public release of scientific data.
The principles recognise the right of all countries to explore and use outer space peacefully. They prohibit weapons of mass destruction in outer space, and protect long-term sustainability of outer space activities.
How does membership benefit countries?
Signing the Artemis Accords is a precondition to be involved in the Artemis programme.
As signatories, Nigeria and Rwanda are demonstrating their commitment to safe, sustainable use of outer space. This should have multiple benefits.
It boosts their international standing as responsible members of the space-faring community. It makes their space sectors more appealing to international investors and shows they are committed to exploiting space to advance their economies.
Being a signatory can build capacity in the space industry. This is through encouraging African nations to budget appropriately and develop policies and infrastructure for space activity.
---
Read more: Africa has ambitious goals for 2063: plans for outer space hold the key to success
---
The Accords will allow Africa to benefit from shared knowledge and technological resources. Partner nations are required to publicly describe their policies and plans.
Space exploration has numerous applications, from satellite technology to Earth observation. These can drive innovation and create new industries. For example, in Rwanda, DMM.HeHe is using space technology for logistics and to connect farmers to customers. The company incorporates remote sensing in agriculture to predict yield by monitoring farm operations, educating farmers on their harvest and planning their logistics to increase productivity. And XY Analytics, a South African agricultural technology startup, offers satellite-enabled pasture optimisation and herd management to cattle farmers.
---
Read more: Starlink: SpaceX's new internet service could be a gamechanger in Africa
---
Being a signatory also enables a country to participate at events where decisions on outer space are made.
African space nations can use their advantageous position in the Accords to advance national interests in the space industry. They can weigh in on issues like militarisation, spy and reconnaissance satellites, space trash, and the right to use resources. Nigeria and Rwanda could get help from other signatories in the event of space related attacks. Nigeria could join forces with global giants for wider and more effective broadband coverage, and invite experts from Artemis partner nations to collaborate on initiatives like the National Centre for Artificial Intelligence and Robotics.
Nigeria and Rwanda's accession to the Artemis Accords could have a positive impact on Africa as a whole and address the gap between Africa and other regions in terms of space exploration and use.
The Accords require partners to make their scientific data available to the public. With access to this data, Nigeria and Rwanda will not need to reinvent the wheel when they are ready to launch their satellites or engage in space travel.
The principles result in reduced costs for space activity.
Artemis acknowledges that member states can use space resources, but there is no obligation to do so in a way that benefits all member states. African nations must push for a sharing formula for mined space resources to be shared among signatories to the Accords.
Finally, Nigeria and Rwanda could in due course become partners in the effort to return astronauts to the Moon and eventually to Mars. The African continent has yet to send an astronaut into space.
Does membership present any challenges?
The Outer Space Treaty and Liability Convention, a UN backed law, requires a launching state – a country responsible for launching a particular space craft – to be held internationally liable for damage caused by their space objects.
The Artemis Accord allows states to acquire the status of a launching state for any space object launched by other signatory states for the purposes of the Artemis programme. So African states could find themselves liable for damage done by another partner nation.
African countries should also prepare for financial and other consequences in the event of US cancellation or withdrawal from the Accords.
Some nations have opposed the Artemis Accords. Russia and China argue that they are overly focused on American and commercial interests and amount to a power grab by the US and its allies. This may affect Nigeria's and Rwanda's interests and foreign relationships as they relate to China.
China has made large financial and infrastructural investments in numerous African nations. It has for several years collaborated with Nigeria and Ethiopia on building practical satellite projects. African nations must be careful not to be perceived as being ungrateful or overly aligned with the US, as they have indeed benefited largely from China.
Anne Uruegi Agi is affiliated with LEARNSPACE FOUNDATION
* This article was originally published at The Conversation